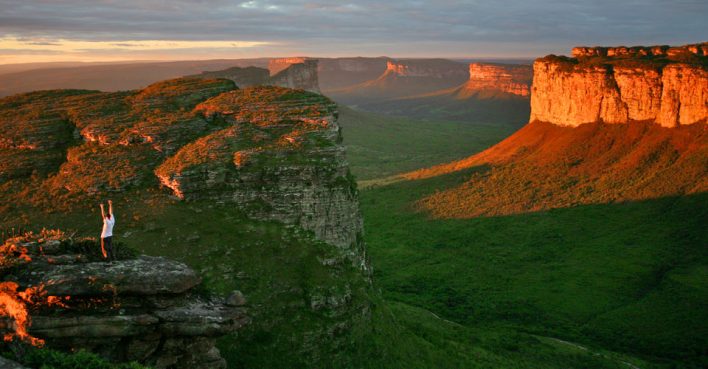 There are many great wonders that people want to admire once in life, but sure, some of them you haven't ever heard and known about them.
1. Enchanted Well at Chapada national park, Brazil: Poco Encantado or Enchanted Well is a giant swimming pool with a depth of about 41 meters in blue water. Thus, visitors can see the rocks and ancient tree trunk at the bottom of the lake. The most beautiful and impressive scene here is that the sun shines through the small gaps creating fanciful green light above the water.
2. Purple pea flowers Wisteria Tunnel in Japan: If you want to be in a wonderland like the fairy tale, the Wisteria Tunnel on the campus of Kawachi Fuji is a perfect choice. This tunnel was flooded with purple pea flowers with various colors such as white, purple, pink, green spaces creating a gorgeous space. The ideal time for coming here is in the spring, or during the period of purple pea flower festival.
3. The Red Sea of Panjin city, China: In contrast to its name, this is not really a beach. They call it the Red Sea by this large area covered by a red seaweed called Sueda. This type of seaweed commonly grows and develops rapidly in the spring. It is still green in summer and just turns featured-red in autumn. So, if you want to admire this gorgeous Red Beach, visitors should come in the period between September and November.
4. Love Tunnel (Tunnel of Love) in Ukraine: Formed from the bushes near the town of Klevan, Ukraine, this tunnel has a length of  2.8km and at the beginning time it is just for trains. The sight of the wonderful and poetic "Tunnel of Love" became an inspiration for photographers and couples. People are believed that any couples hold their hands and walk together on this path, they will stay together forever. Because of this, it attracts a large number of tourists every year, especially many couples usually come to pray for their love story …..
5. Library of Celsus, Turkey: Celsus Library is an architectural masterpiece of ancient Rome located in Ephesus, Turkey. This library was built around 100-110 AD by Gaius Iulius Aquila dedicated to his father, Tiberius Iulius Celsus Polemaeanus minister. It has stored 12,000 precious books. The library is also considered as a temple because below its main entrance there are the tombs of heroes.
6. The ancient city of Bagan, Myanmar: In Asia there are countless beautiful landscapes which make distinctions of this continent, and Bagan city in Myanmar is one of them. It is an ancient city with more than 10,000 Buddhist temples in its heyday and more than 2000 temples still remains until now. Visitors will be travelled by a hot air balloon to admire the panoramic view of the old town and the magnificent temples from above.
7. Monastery of Meteora, Greece: Conforming to its name, "hanging stones" or "hanging in the sky", 6 monasteries of Meteora are built on top of the sandstone's columns protruding on trees loosely and dangerously in the sky, creating a spectacular landscape. Located in Thessaly, Greece, it is one of the largest communities and the most famous in the world. Meteora was recognized as a world cultural heritage by UNESCO in 1988 and became an attractive destination for tourists to visit.
8. The Torun town, Poland: The Old Town is one of the great destinations in Poland. This place is famous as the birthplace of the astronomer Nicolaus Copernicus. It is built on the architectural style of the Middle Ages, all were made of brick. From the church, the town hall to small areas in the city all are strangely attractive, it helps Torun become the favorite place of tourists all over the world.
9. The Hercules tower, Spain: Like a beacon of Alexandria in Egypt, the Hercules tower was known as a beacon of the ancient Roman still remained until now. Located in the northwestern Spain, this 2000-years old architecture is considered as both a National Heritage of Spain and an UNESCO world heritage.
10. Banaue terraces, Philippines: After thousands of years of cultivation and hard "trimming", the Filipino people has created a beautiful natural masterpiece – Banaue rice terraces. Being built 2,000 years ago by manually only, It is praised that Banaue seemed like "the eighth wonder of the world". The rice terraces are built in the shape of the mountains here, brings a perfect harmony between nature and human. Today, it is still used to grow rice and crops, and lots of tourists come here every year to admire its'spectacular beauty.